There are only two races I do regularly that I feel a pang of apprehension in the few hours before the start gun goes. The Box Hill Fell Race is definitely one of the them. 7.5 miles There are a comparative lack of fell faces in the south of England – obviously – but even for a southerner like me, this race does present a pretty bug challenge. The other, the Southern Cross Country Championships, is the week after.
I also have unfinished business with this race because in 2011 I crossed the line in a personal best time of 59 min 59 sec 81s, by some clear distance under 60 minutes I hope you'll agree. Unfortunately the time keepers disagreed on this and rounded my finish time up to 60 minutes dead. It's pretty clear what my target  time was this time around!
For those of you that are perhaps a little less familiar with Box Hill, it is a fairly substantial raise along the the North Downs ridge line and predominantly chalk downland underfoot. The National Trust as landowners quite rightly want to protect the landscape, meaning that for the fell race spikes are banned. Fell shoes were therefore the order of the day as we formed a fairly casual start link at the bottom of one of the said ridges.
A huge redeeming feature of this race is it's casualness. Entry is by post and cheque only, the race costs £5 and you can get a paper copy of the results sent to you for 50p. On the start line, the race still has this feel. The starter tells a couple of jokes that really nobody other than those in the front row can hear and pretty much shouts 'ready, steady, go' to get us all started. This year, just as the starter shouted 10 seconds to go, a family out for a morning stroll complete with off-road push chair emerged right in front of us all, looking a bit perplexed as to why there 250 random people stood in a ragged line shouting at them to mind out the way, else they may get trampled on. This short delay over we got underway.
The first three or four minutes of the race isn't quite as bad as it looks. Instead of running straight up the ridge, the course takes a bit of dog leg where everyone is forced to stick to the right of a man, who presumably is the self appointed first course marker. I expect this is probably intended to spread the field out a little before the narrower section in the woods at the top. I found myself already pretty breathless at the top of the hill, but preparing myself for the first of many steep and technical downhills. This one is a steep contoured descent on grass, with a dense hedge boundary and gate to negotiate at the bottom. For those with with a lots of confidence, ability or foolhardiness, this is a great opportunity to take a couple of places, and set yourself up well for the flatter trail section coming up.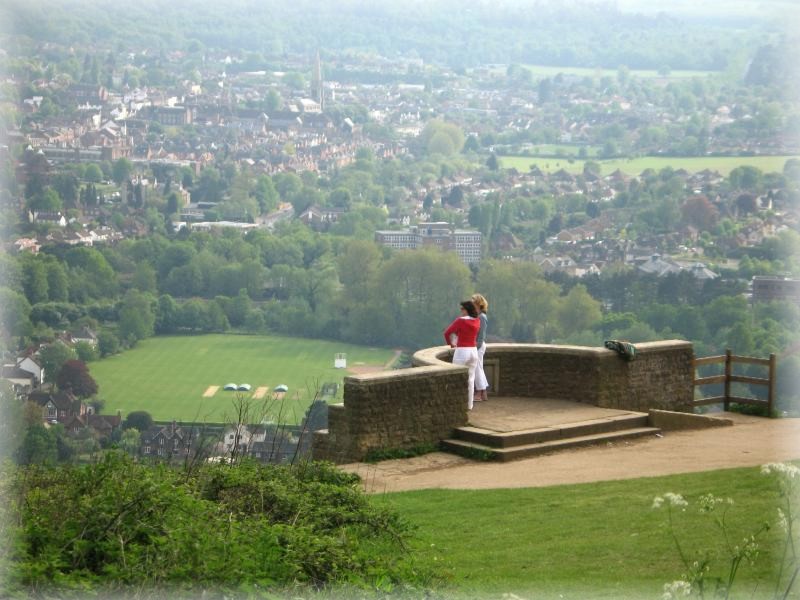 Box Hill view point
This year, I managed to overtake one or two and slow myself sufficiently to make it through the gate. My overall race position probably stayed the same however, because a couple of people came haring down, overtaking me and many others, one even jumping the gate at the bottom. I'm always amazed as some people's ability to be able to fly downhill seemingly completely out of control, yet at the last moment shift their momentum and carry on as if they had just jogged down the hill in complete control.
Despite the race's reputation, the next KM or so is pretty flat and I found myself getting into a fairly steady rhythm in this section, trying to regulate my breathing, ready for the next big hill. After another swift downhill, steep, stepped and under tree cover it's pretty clear that you're at the very bottom of the hill. What follows is probably the toughest hill of the race. The surface is chalky, and on this occasion was pretty slippery. I found pretty hard to keep running up, and began walking as a neared the top. I did however receive a bit of extra motivation from Adam Stirk, who overtaking me, asked politely whether I was choosing to walk, suggesting that perhaps I might want to get on with it….
With that hill finally complete, I made sure the leg speed was back up to scratch quickly, and this won me a couple of quick places. At the almost inaudible pre race briefing there had been mention of a small herd of highland cattle possibly being somewhere out on the course, and round the following bend this became an emphatic reality, with 4 or 5 enormous beasts more or less blocking the track we were following. I continued, rather tentatively picking my through, but at the cost of one place, as another guy came flying through and more or less bounced off one the cows just in front of me. The cow didn't seem in the least bit bothered and carried on nibbling at the hedge it was concentrating on. I'm not really sure what learning point to take from this experience? Was I being too tentative? Is it better to bounce off cows and keep running, or did the other guy know these were pretty docile cattle? I've certainly come across some pretty angry and petulant cows in my time!
Crossing over the road, onto the Mickleham side of Box Hill we were invited to then take on the steady climb back up to around 150m. As the weather was fairly pleasant there were quite a few walkers enjoying a nice quiet ramble around this particular part of the course. Most seemed quite happy to be slightly interrupted by people in varying states of near collapse ambling past them. I can't help feeling that most of them were perplexed as to what we were actually doing. At this part of the course, we were once again in fairly dense woodland and following a well-trod path. Occasional glimpses of the top of the south side of Box Hill can seen over to the left, but plenty of tree routes around, I was certainly making sure I wasn't too distracted!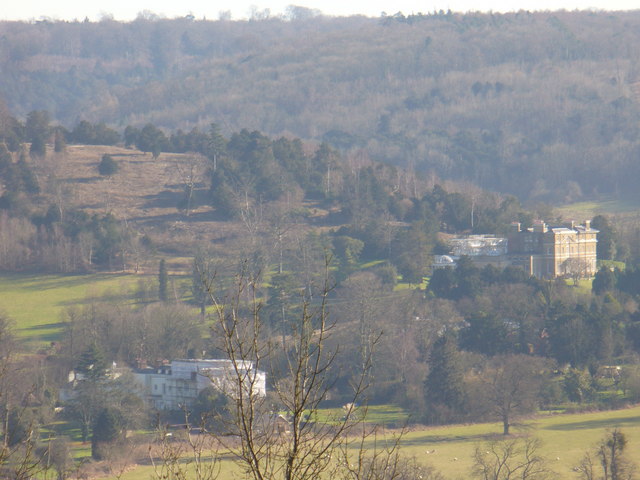 View from Mickleham hill
From this point, the course takes another steep downhill, this time stepped and with a road at the bottom, which gives an added sense of danger to the descent. This is one of my favourite parts of the course, and I was able to get into a pretty good rhythm on the way down. In fact so much so that on crossing the road at the bottom and beginning the last big ascent to top of Box Hill again, I felt extremely lightheaded. I had to slow my pace a fraction for about 30 seconds or so to get my breathing back under control.
The last mile and half or so of the race is characterised by the relentless rise back up to Box Hill, a KM or so along a woodland trail, and then inevitably another descent, followed by ascent and then the final epic downhill dash to the finish. One the penultimate drop, there is a substantial fallen tree across the route. When I first completed this race, there was a large gap under the trunk and so everybody scrambled underneath it, dirtying their shorts, but not really slowing them down. Over the past five years or so the trunk has dropped, to a point this year, where the gap was too small at the bottom. Fortunately a notch has been carved out of the top of the trunk, and so everyone can now either leap, scramble or climb over and carry on downhill.
A quick glance at the watch at the bottom of this hill told me that if I pushed on, I might just make it back in under 60 minutes. On the final climb, I had to go 'off piste' to overtake a couple of guys who were taking the gradient in their stride. So to the last downhill. In previous years, I have found myself in a bit of race down this stretch, but this year I was pretty much on my own, just needing to beat the clock. I made it down to the finish line in 59:37, taking 23 secs off my previous best. Click here to see the photo that shows how great I looked as I crossed the finish line…..!
                                                                The final downhill
I was extremely pleased to chalk up a PB on this course. Admittedly the conditions were good, I'm now increasingly familiar with the course, and the fallen tree isn't as much as a burden as it has been in previous years. However, in a tough old race like this one, you still have to push hard on the hills to get round and hold your own. My position was 29th, an improvement of 13 places on 2011.
I'd be interested to hear what people think of the Box Hill Fell Race, particularly those of you that have taken on some of the more serious fall races, up in the lakes and beyond. Looking forward to next year's race already, hopefully notching up another PB.